EventGnosis SOAP Proxy
Take Control of Your Web Services

Control access to individual SOAP requests
Block Denial-of-Service (DoS) Attacks
Manage transaction load and throughput
Route transactions dynamically
Create audit trail of all SOAP transactions

Real-time Performance Dashboard

Display business metrics as well as server performance
Alert on performance thresholds

Monitor Transactions and Remediate Automatically

Track individual transactions

Automatically restart services remotely

Alert with email, SMS, Syslog, or SNMP

No Coding Required

Rapid development using a wizard driven rich web interface

Based on the EventGnosis SOA 7.0 rule-based server

In-line or out-of-band processing
Highly scalable with clustering support
Compatible with all SOA platforms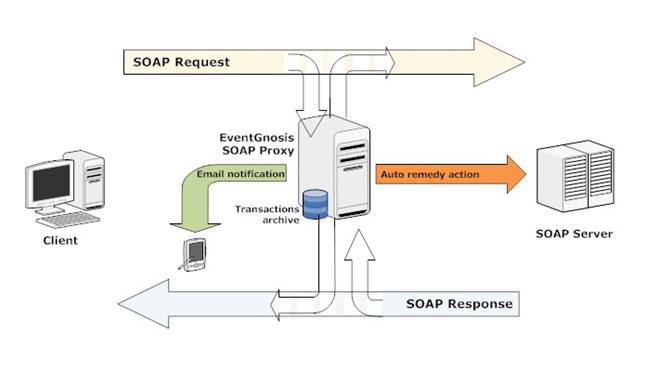 Solution for Uncompromised Availability of Web Services
Web services are becoming an integral part of the business infrastructure, and the availability and proper functioning of individual web services is mission critical. The only way to assure 99.999% services availability and to maintain the required transaction performance and throughput is to be able to monitor individual SOAP transactions as are they are being processed.
Control Access To Your Web Services
EventGnosis SOAP Proxy is like an application firewall and more. When used in in-line mode, the EventGnosis SOAP Proxy becomes a gate keeper to your web services infrastructure. SOAP requests enter and are validated against any number of business rules before they are passed on to your back-end SOAP and database servers. A single request can initiate multiple context sensitive queries that are combined into a single response to the original request. This provides you with complete control over individual web services. Authenticate users or limit access by IP or domain, time of day, or by business policies maintained in Microsoft Active Directory.
Manage your Applications Load and Throughput
Likewise EventGnosis SOAP Proxy lets you monitor the traffic to your servers and dynamically reroute, throttle, or deny requests. Don't let erroneous or malevolent traffic bring down your infrastructure. Stop it at the gate before it enters your network. Under peak load conditions give preference to your most critical users and services.

Apply Business Rules to your Transactions
EventGnosis SOAP Proxy doesn't just shuffle packets around. It actually understands the contents of the SOAP messages passing through it. Build business logic to enforce your business policies or be more responsive to your customers. For example, you could dynamically change price quotes depending on the order volume and inventories on hand. In addition, you can automatically take actions or receive alerts so you can handle exceptions without delay.
Create a Bridge between Incompatible Systems
EventGnosis SOAP Proxy can translate the format of SOAP requests. Need to bring a new service up quickly, but the SOAP requests of your new application are not compatible with your existing services? It may even be impossible to change either application. No problem, EventGnosis SOAP Proxy can easily convert the requests and responses into the correct format.

Real-Time Consoles and Dashboards
Always know exactly what is happening. Transactions can be shown in real-time consoles specific for each service. In addition, graphical real-time summary dashboards can give you an overview of your whole system. It can be the throughput and performance of each server, or your real-time order volume by product line. If it flows through the EventGnosis SOAP Proxy, it can be analyzed.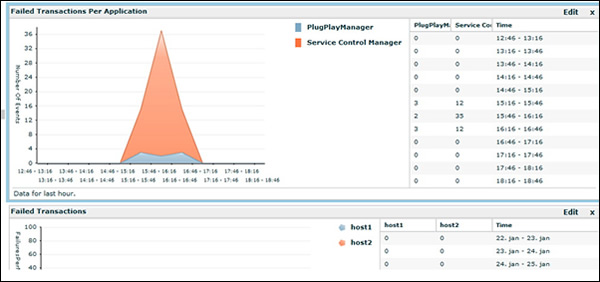 Easy Configuration using Web-Based Rich Client
EventGnosis SOAP Proxy web-based user interface is very simple to use. Click on "Add Service" and a wizard will let you monitor remote SOAP service in no time. Click on "Add Action" and you can pick specific events and chose from a number of different notifications or actions.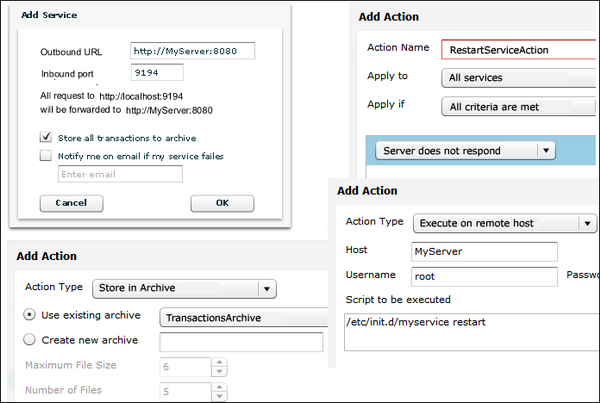 Orchestrate Complex Transactions with the Advanced Business Rule Builder
Custom business rules can be built directly from within the EventGnosis SOA 7.0 rule-based application server configuration interface, which is part of the EventGnosis SOAP Proxy solution. This gives you total control over your transation processing, and let's you orchestrate even the most complex queries across your web services and database infrastructure.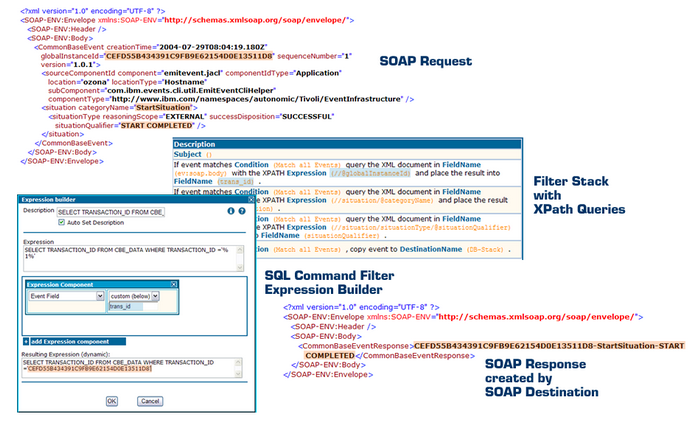 Get Started Now
Contact us and to schedule a demonstration of the EventGnosis SOAP Proxy. At that time, we will also be glad to discuss your requirements in detail. Live proof-of-concept solutions can often be deployed in a matter of days. Our world-class professional services team is ready to assist you remotely with even the most challenging requirements.
Download free whitepaper: "Automatic Remediation for SOA Web Services"
Download free whitepaper: "Real-Time_Performance_Dashboard_for_SOA_Web_Services"
Download free whitepaper: "Publishing_Databases_with_Web_Services"
Request a WebEx Demonstration