OEM F.A.Q.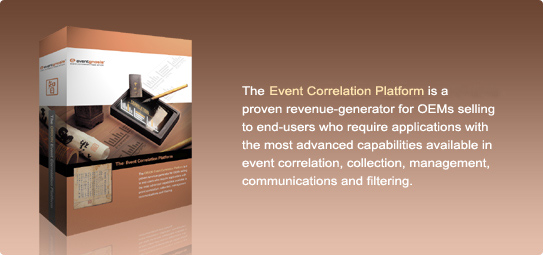 Do you want to add complex event processing and alerting to your solution, but are concerned about the risks and cost of a complex development project?
The EventGnosis platform is built from the ground up to add complex event processing, event correlation and alerting to OEM products — whether they are client applications, server applications or appliances. The platform is modular, portable and scalable to ensure the flexibility that OEMs require.
Who is using the EventGnosis platform now?
The EventGnosis platform is enterprise-ready, proven technology. Major providers of SIEM solutions rely upon the EventGnosis platform, including two Leaders in the 2011 Gartner Magic Quadrant for SIEM. These OEMs are using the EventGnosis platform to provide functionality in predominately Fortune 1000 accounts. Q1 Labs (now IBM) uses the EventGnosis platform as the core rules-based correlation engine in their
QRadar
product.
Do you need to dramatically shorten your time to market and boost ROI?
With EventGnosis OEMs can rapidly and cost effectively develop applications to meet the ever-expanding list of customer demands. Using EventGnosis will allow you to measure ROI in a few short months as opposed to years with in-house development. OEMs usually get from concept to first customer ship in less than 120 days, as opposed to 12-18 months in a normal development cycle, because the EventGnosis platform is already mature, feature-rich and easily embedded in a wide range of architectures.
Are you concerned about choosing a platform that will lock you into a single architecture?
The EventGnosis platform is based on industry-standard technologies like Java and XML and easily integrated in SOA architectures via enterprise service buses. If you can run Java™, you can use EventGnosis — desktops, servers and appliances all run the EventGnosis platform successfully.
Is scalability and speed a major concern for your solution?
The EventGnosis platform is built to scale — it was designed from the ground up to handle millions of events per hour. Additionally, the platform supports advanced clustering which enables OEMs to grow capacity through additional appliance or server sales. Existing OEM customers have proven that the EventGnosis platform can scale to meet the required data volume and velocity of even the largest enterprise or service provider environments.
Do you need to integrate quickly with third party devices and applications so you can become part of an ecosystem and not just a stand-alone product?
The EventGnosis platform comes standard with a wealth of connectors enabling the rapid development of an ecosystem. Additionally, it is easy to create your own connectors to support your own proprietary protocols ensuring that EventGnosis is the right fit for you. The EventGnosis platform is also ready for integration in SOA/ESB architectures out of the box, and can be deployed to run in cloud environments.
Do you have a need for a proprietary data format or a requirement that includes executing proprietary algorithms that contain your "secret sauce"?
The EventGnosis platform is fully extensible to support your proprietary data formats, sources and algorithms. Simply define the data structure, external source properties or the Java JAR file that contains your "secret sauce" and it automatically becomes available in the EventGnosis development environment.
Are new revenue opportunities high on your list?
The EventGnosis platform allows OEMs to quickly generate new products that make existing core products more competitive and broadens the OEMs overall solution.
Would you like to be able to develop applications with fixed functionality and be able to upsell new functionality to existing customers?
The EventGnosis platform enables OEMs to create applications with locked functionality so you can distribute the whole application but only activate new functionality with key codes that could be deployed via the OEMs' self-service customer portal. This has two benefits to OEMs. First, OEMs can create trial offerings thereby allowing customers to use advanced functionality for a short period of time before requiring them to purchase the upgrade (a "try before you buy" function). Second, OEMs now have the ability to get into a customer at a lower price point and then provide a compelling solution to convert the customer into a higher revenue account.
Do you need a solution ASAP to address your customer requirements?
EventGnosis has a team of professional services engineers ready to help jumpstart your applications — from training, to design, to implementation, EventGnosis can do it all.
When you are ready to add complex event processing and alerting that your customers are demanding, contact EventGnosis so we can show you the way.