Condition List
The Condition List parameter is one of the EMML (Event Management Markup Language) complex parameters. It is used to store series of Conditions in order to detect certain patterns.
To create a Condition List, use the Condition List ECA Editor module: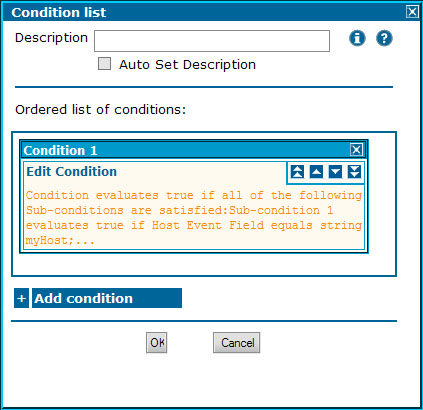 The Condition List is consisted of two main parts:
Header,

Conditions Area.
Header
The Header is used to edit general Condition List properties:
Description is used to store short notes about a given Condition List and is displayed on the Object List as a parameter value (orange text in braces) for a given Condition List.

Auto-Set Description determines whether the Description should be entered manually by the user, or generated automatically from the descriptions of the contained Conditions.

Comments can be used to store more extensive information for given Condition List. To edit Comments, click on an (i) icon in the header of the Condition List.
Conditions Area
The Conditions area is used to add, remove and edit Conditions.
A Condition is added by clicking on the (+ Add Condition) button below the Conditions area. A Condition is removed by simply closing the desired Condition.
To edit a Condition, open the Condition Builder by clicking Edit Condition link.